Historic Structure Reports
A historic structure report provides documentary, graphic, and physical information about a property's history and existing condition and addresses management or owner goals for the use or re-use of the property. The report serves as an important guide for all changes made to a historic property during a project—repair, rehabilitation, or restoration—and can also provide information for maintenance procedures. Finally, it records the findings of research and investigation, as well as the processes of physical work, for future researchers.
Hibernia Bank Building Historical Structure Report (2009)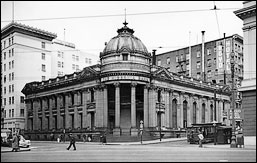 Dolmen Property Group hired us to create a HSR for the Hibernia Bank Building, a grand Neoclassical style bank building in San Francisco's Tenderloin/Mid-Market area. Designed by Ecole des Beaux Arts-trained Franco-Mexican architect Albert Pissis and constructed in 1892 (enlarged in 1905), the iron and steel-frame, granite-clad building is one of San Francisco's finest Beaux Arts buildings. The building, which has remained vacant since the 1990s, is listed in the National Register of Historic Places and is a San Francisco City Landmark.
In addition to documenting the building's existing conditions and history, we provided general recommendations on resolving structural deficiencies and restoring deteriorated interior and exterior materials.